Easy manual sports timing
RaceClocker is a do-it-yourself tool for manual timing of sports races. Our app offers an easy and fast alternative to chip timing or stopwatches. For coaches, timekeepers and race managers, RaceClocker is an excellent solution for high quality timing of your race.
Made for race managers and coaches
Live RaceClock
...
Central to cloud timing is synchronized clocks. This clock is running on our race server, making sure that all devices you use for timing are in synch. This results in precise timing from multiple devices for one and the same race. Timing accuracy is NOT depending on the speed of your internet connection.
Learn more...
News, updates and results
Check
Substack
where we regularly link to races published by race managers around the globe. Here you can also find announcements of newly added features and other updates around RaceClocker.
Get started with RaceClocker
You can
use RaceClocker
free of charge. Just create an account and get started. It's easy to set up and it works great.
RaceClocker is free up to 10 participants per race. If you want to use it with more features you can upgrade at any time to RaceClocker Essentials or Premium. Have alook at our pricing.
What race directors say
"My compliments to your product and service. I have used RaceClocker for several events, and I have to say -
I LOVE IT!
Your program has made timing rowing head races very easy. It is easy to use, accurate, and probably the best feature is live results."
Gregg Hartsuff
Head Coach University of Michigan Men's Rowing
"We have been using RaceClocker for the past 4 editions of our annual ADR Regatta. Over the years we have seen it develop into a
reliable and easy
to use timing solution at very low cost. Among others live results and split times are what rowers enjoy at our event."
Giovanni Margaroli
Race Director ADR Regatta
"
Thanks for a wonderful tool.
We started using RaceClocker recently for our annual events as an upgrade from stopwatches, pen and paper and Excel sheets. It works smooth, simple, intuitive, accurate and easy. We spend a lot less time on post-race calculation and the live results are a bonus."
Wouter Op den Velde
DDS Rowing Delft, The Netherlands
RaceClocker's key features
Import start list
Upload an Excel or other CSV based start list to get going quickly. RaceClocker will group by category and for each participant you may include a bib number, name and club information. Sample file and instructions are provided.
Time anywhere
Your start, finish and split points can all be at different locations. RaceClocker is cloud based and centrally managed from the race managers dashboard. Timekeepers in the field can use any smartphone, tablet or laptop.
Correct mistakes
RaceClocker includes several features to recover from timing errors that happen with manual timing. Accidental timings can be 'undone' or assigned later to another participant. Time stamps from a backup system can be manually added at any time.
Time trial, waves and mass start
RaceClocker is great for time trial races where participants start one after another. Or for races where a wave or 'flight' of participants starts at the same time. Mass start races are also supported.
Live results
Results are published in real time so the crowd can follow along, either online or at the club house. Results are optimized for live display at your venue and can easily be shared.
Publish and archive
All timing registrations as well as final ranked results can be downloaded as Excel file for your archive or for further processing.
Create, manage and monitor race timing from the Timer Dashboard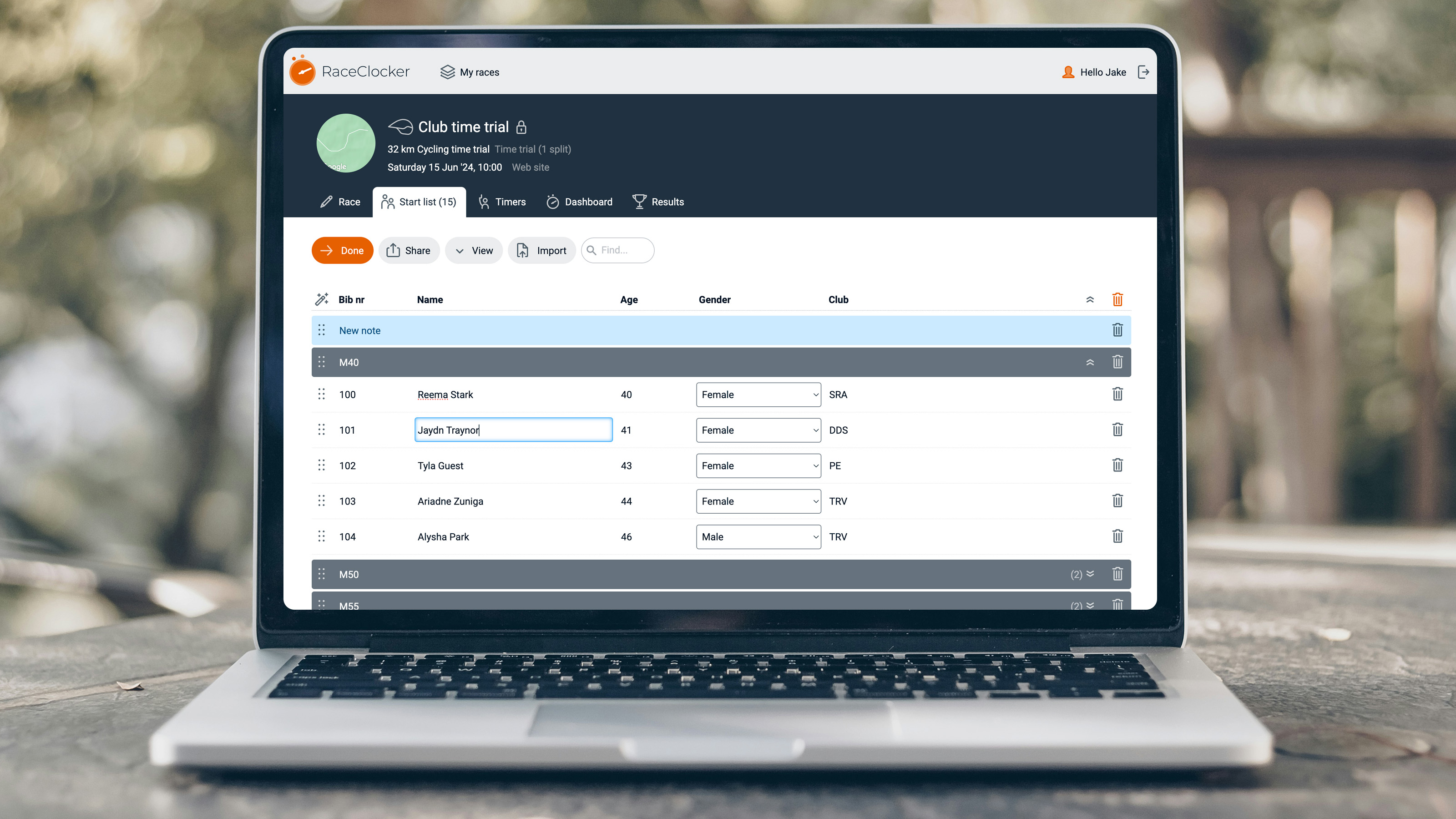 Capture start, finish and splits from any laptop, tablet or phone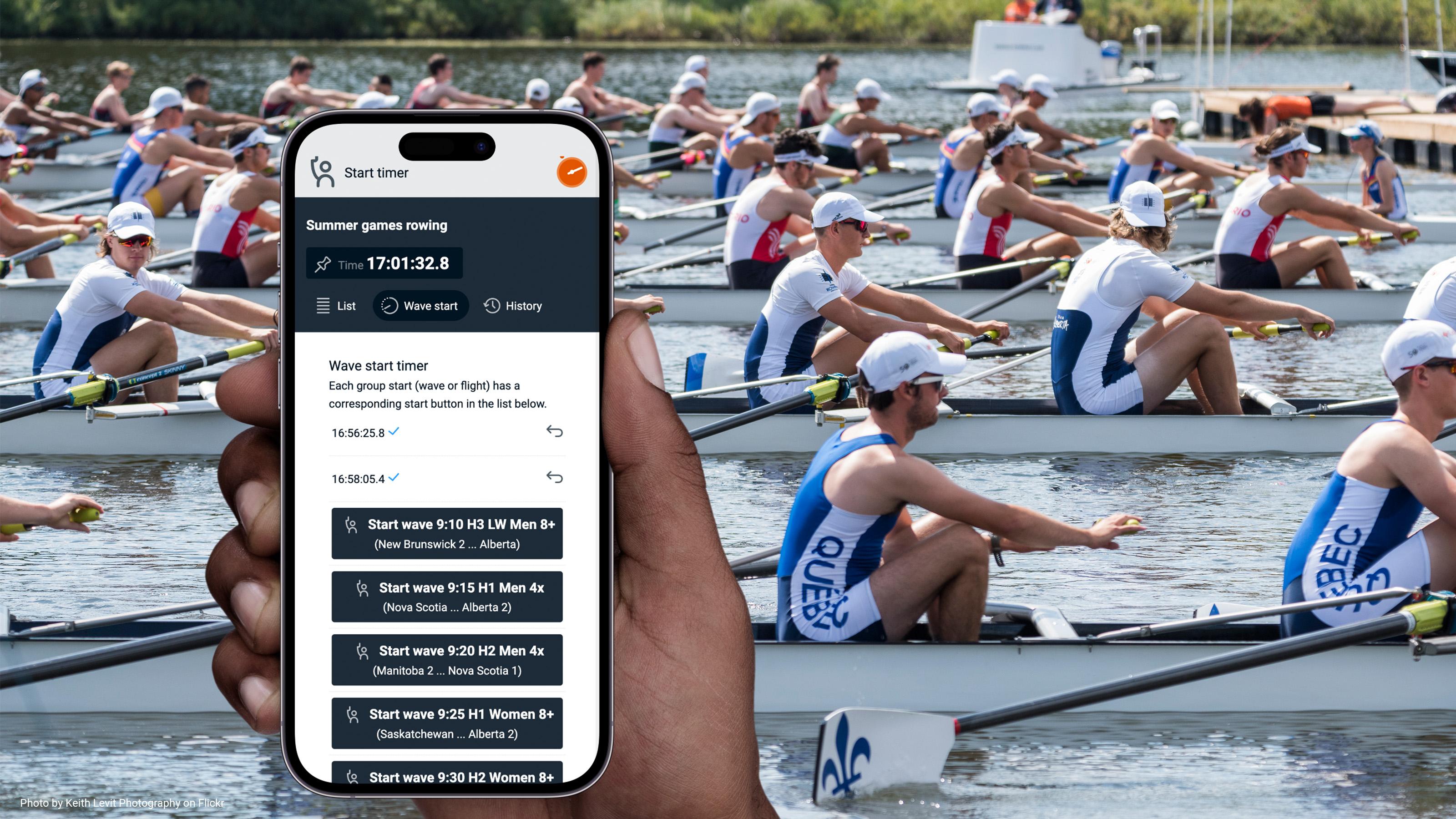 Publish and share live results during the race